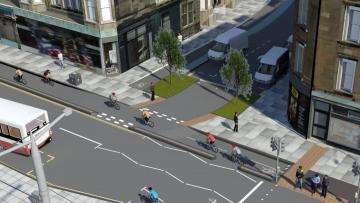 Edinburgh City Council is developing the West-East Cycle Link, crossing the city from west to east and linking Roseburn to Leith Walk via Haymarket and George Street.  The route supports the Council's overall Vision for Transport which seeks "By 2030 to make Edinburgh's transport system one of the most environmentally friendly, healthiest and most accessible in Northern Europe".The innovative proposals, mostly segregated from traffic, are aimed at encouraging less confident cyclists.  The route is formed from a mix of shared-use quieter side streets and protected cycle tracks on main roads.  It's not all about cyclists: pedestrians benefit improved facilities, better crossings and public realm improvements.
The final preliminary designs have been approved with all-party support from Councillors.  The Council is applying for 50/50 match funding from Sustrans which would bring substantial outside investment into developing Edinburgh's infrastructure.
There is widespread local support for the route, and plenty of evidence that it would be well used.
More information
Organisations
The proposal affects many people and organisations.