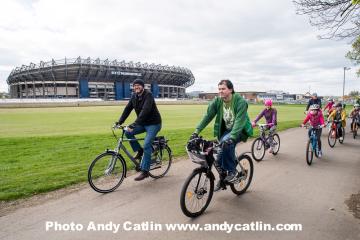 May Traffic Count - Roseburn Park & the A8
Our survey showed:
23% of private vehicles were bikes.  All of these and more are likely to use the CCWEL once it is completed.
82% of cars were single-occupancy.  Any measures to improve public transport and active travel will reduce congestion and pollution.
87% of vehicles in the park at the Ice Rink junction were bikes.  We need to give priority to the bikes and pedestrians.
We were counting traffic in both directions on Tuesday 14th May in Roseburn Park (on Quiet Routes 8 and 9) and along the A8, just by the junction with Riversdale Crescent.  Two thirds of the people on bikes chose the safer, but longer, route through Roseburn Park. We did not count pedestrians, but there were lots of people walking and scooting too!
| Vehicle Type | Total Vehicles (A8 & Roseburn Park) |
| --- | --- |
| Bicycles | 15% |
| Cars & motorcycles (single occupancy) | 42% |
| Cars & motorcycles (with passenger) | 9% |
| Commercial (buses, vans, taxis) | 34% |
City Centre Transformation Project - Consultation open until 28th June
The City Centre Transformation project aims to transform the way that we all use and get about in the city centre. There are grand plans to allocate much more space to walking and cycling, to improve public transport links and to make the most of our green spaces. The council consultation on these plans runs until 28th June.
You can find out more on the council web-page, from Spokes or by joining the Spokes meeting on Friday 14th June.
TRO - Haymarket to Charlotte Square
The Council has published the draft Traffic Regulation Order (TRO) and Redetermination Order (RSO) for the Haymarket to Charlotte Square section of the CCWEL route. Let us know what you think.