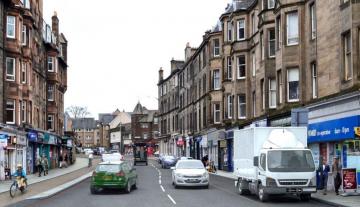 The statutory and design processes inevitably take time, so we'd like to remind Edinburgh Councillors that the exemplary CCWEL has widespread public support due to the many benefits for the people of Edinburgh.
The facts for Roseburn businesses
Local businesses are campaigning about the loss of parking but the facts don't support it:
Nearby short-term parking will increase from 12 to 49 spaces, with time limits increased from 30 minutes to 2 hours
The new cycle route helps businesses reach out to a variety of customers:
Increased attractiveness to pedestrians with a crucial new crossing.
New opportunities for business from passing cyclists.
Modern stream-lined traffic signals and removal of bottlenecks target congestion and pollution.
Numerous studies from around the world show again and again that bike lanes do not adversely affect local businesses.  National and local government reports confirm the economic benefits of cycling.
We welcome the decision by Edinburgh Council to support the businesses during construction of the route.
Huge public support for change
There is huge support within Edinburgh from people who want better cycling infrastructure. Thousands of people give up their Saturday once a year to show their support at Pedal on Parliament.
The City Transformation Survey found that 88% of people support changes to mobility and place quality in the city, with 51% in support of radical change.
People said they want a city which works for everyone, through attractive, liveable public spaces, with sustainable and active travel made as easy as possible.
Exemplary consultation
The Council Cycling Officers have listened to concerns again and again and again.  The designs were altered to address the main concerns.  Local school children, residents and community councillors contributed their ideas to the Rejuvenating Roseburn project to transform our local centre.
Short stay parking within 2 minutes walk of the shops
|   | Now | After |
| --- | --- | --- |
| Roseburn Terrace | 2 | 2 |
| Russell Rd | 0 | 15 |
| Roseburn St | 2 | 8 |
| Roseburn Gardens | 2 | 0 |
| Murrayfield Ave | 0 | 16 |
| Murrayfield Place | 6 | 8 |
| Total | 12 | 49 |
These figures exclude loading bays where stopping for a "quick shop" is against the regulations.  Misuse of loading bays is currently a significant contributing factor to congestion.