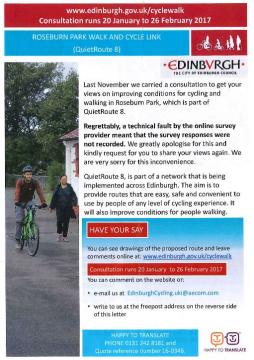 Following the flurry of activity at the end of last year, things have quietened down regarding the City Centre West to East Cycle Link. Over the coming months, we will continue to put forward the benefits of cycle routes for our local community.
In the meantime, please do get in touch if you have comments or ideas that could help.
Other ways in which you can offer your support are to...
Re-submit your response to the Council's consultation on cycling in Roseburn Park (see below).
Continue to support Roseburn businesses. Tell others and post about your good experiences.
Join our facebook group.
Get involved in the council elections. Engage with prospective candidates and tell them how pleased you are that the West to East route has been given the go-ahead, including Option A at Roseburn. Ask for their ongoing support.
Join the West Edinburgh Pedal on Parliament feeder ride on 22nd April (details here).
Edinburgh Council Roseburn Park Consultation rerun
Responses from the Council's November consultation on changes to Quiet Route 8 were not recorded due to a technical fault.
Please respond to the consultation by 26th February so that all views are heard. We know that this route is used by many cyclists and is a useful link to the west of the city.