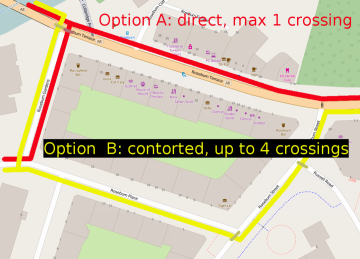 The Council have now published the report for the Transport and Environment Committee meeting on 30th August where Councillors will decide on the Cycle Route.  It's a detailed and thorough document spanning 43 pages, including a detailed analysis or concerns raised, design changes made, and comments.
Our executive summary is that the Council Cycling Team are offering a segregated direct cycle route, with numerous benefits, and welcomed by the majority of City residents who responded to the consultation.  Dozens of detailed concerns have been addressed, and there is clear evidence that the solution presented is the right one.
As expected, the report includes two options — see our analysis
Option A is direct, in keeping with the rest of the route
Option B diverts to the back roads yielding space to extra loading bays — mostly currently misused for parking
Most unusually, the Committee Report does not make any recommendation between the options, and says it is up to the Committee to decide.  This is a clear sign that political opinion is seriously divided.  We need to show our Councillors that we want the route done properly, rather than losing our nerve for the last section.
There have already been lots of compromises, most of which we support, to help other users.  Option B seems like a 'compromise' that nobody really benefits from.
[Option B] is a dog's dinner of a compromise that really needs a lot more work

— Main campaigners against the route
A is the best option. Full stop. But it's even best in purely political sense because all hate B and one side likes A.

— Marco Biagi, former SNP minister on Twitter
Please make one last effort to show Councillors your support for the route and Option A — by email, social media, or joining our ride.  Please persuade all your friends to join in!