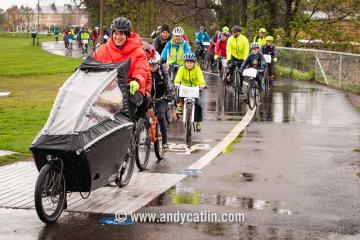 Friday 18th May is the last day of the Traffic Order consultation for the City Centre West to East Link (CCWEL).  If you have not already responded, please do — the Council would like to hear from those who support the scheme as well as those who have objections.  Find out more in our article.
We have already sent in our response in support, as the case seems clear:
There are many benefits, especially for kids to be active and less affected by pollution
Since the Council voted unanimously in favour of the route there has been a big investment in time to listen to any remaining concerns and fix them.  In some stretches where the width has been pared down, which is less ideal for cyclists but we recognise there has been a balanced consideration of the needs of all road users and businesses.
It's not just for cyclists: there are big benefits for pedestrians and even motorists benefit from improved junction flow.
It's not just for Roseburn: the new route is a key part of a city-wide network that won't work if there is a missing link.
This is how much people care about cycling...
The 7th Pedal on Parliament was a huge success, showing that thousands of people care enough about cycling to give up their time and show up on a cold and rainy morning.  Andy Catlin's wonderful pictures include the Roseburn feeder ride. It was great to see lots of families and kids able to enjoy the traffic-free riding thanks to a police escort. We are all looking forward to a time when they can be out and about on their bikes every day thanks to safe and segregated routes.
Roll on the CCWEL!!